Welcome to the home of My Scroll Saw Projects TM

Serious Software for Serious Scrollers

Thank you for visiting the home of the net's # 1 scroll saw software for record keeping and project management.




Maintain inventories of:

Scroll Saw Patterns

Scroll Saw Projects

Power Equipment

Maintain records of resources, vendors, memberships, subscriptions, customers and sales. Produce multiple reports.

Scrollsaw Association of the World

Join with Scrollers World Wide
---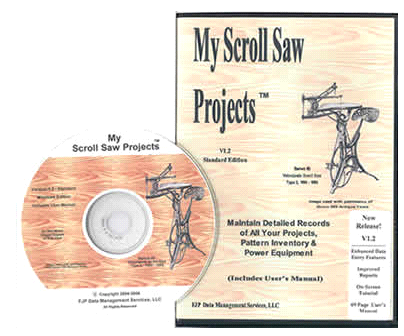 Developed by a scroller for scrollers. The My Scroll Saw Projects TM software applications were created especially for woodworkers who concentrate on scroll saw Fretwork and/or Intarsia creations. You will find versions of the software here that will support scrollers of all experience levels and needs.
These applications provide the woodworker with the capability to document and maintain complete records of all of their scroll saw patterns, creations, power equipment, customers, and vendors, etc. They also include extensive report generation features, including custom reports.
For additional information about specific versions and to purchase the product, please select Products from the menu any time, and you will be taken to the appropriate pages. Thank you again; enjoy your stay!
If you have any questions please contact us at:

---
Barnes #2 Scroll Saw image used with permission of Union Hills Antique Tools
myscrollsawprojects.com is a member of the
FJP Data Management Services, LLC
community of web services.
You will find additional information about FJP Data Management Services, LLC and other featured software products at: